American Association for Justice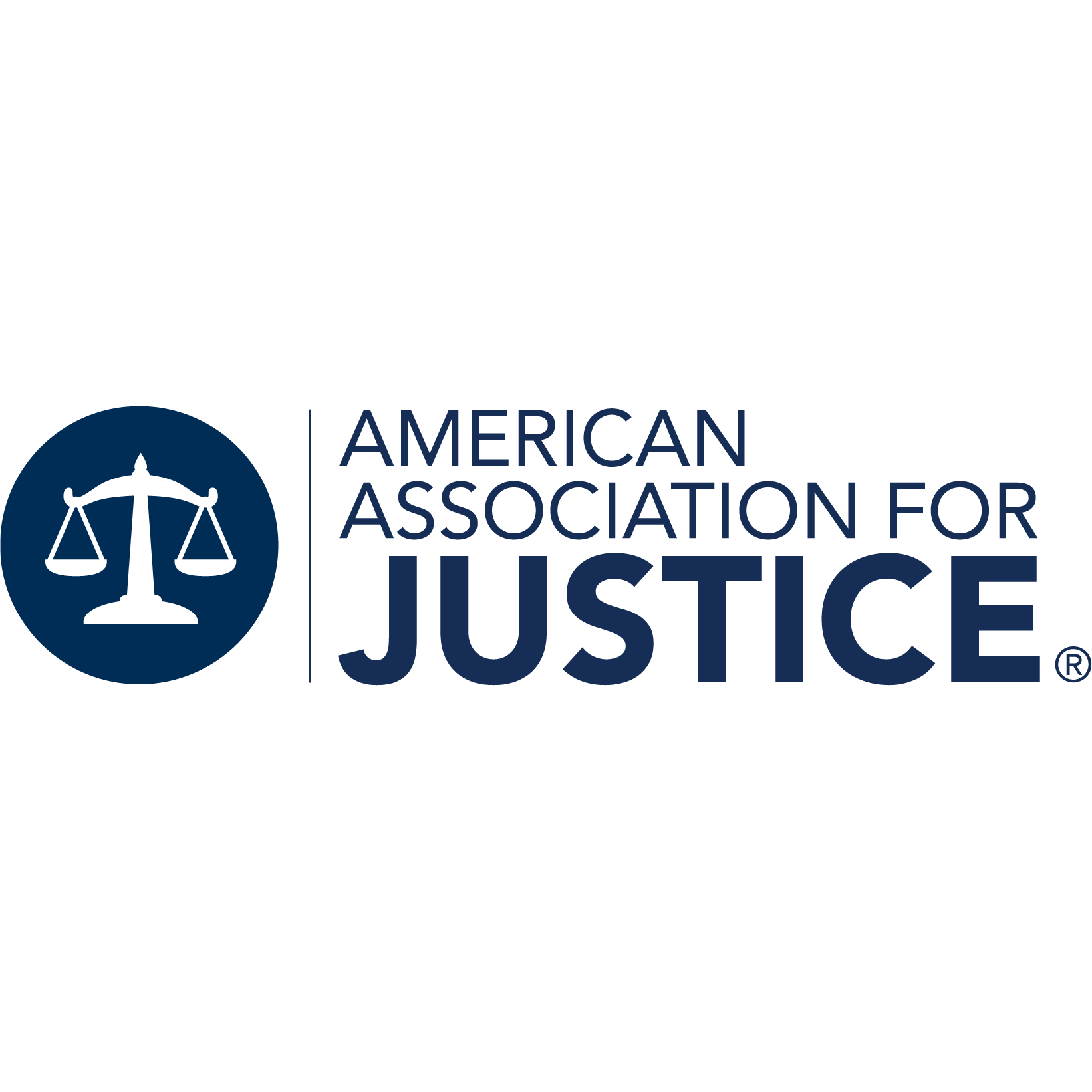 Logo of the American Association for Justice
---

Meet AAJ's new president, Larry Tawwater, in this video that introduces AAJ.
---
The Purpose of the AAJ
AAJ is committed to promoting a fair and effective justice system and supporting the work of attorneys in their efforts to ensure that any person who is injured by the misconduct or negligence of others can obtain justice in America's courtrooms, even when taking on the most powerful interests.

The AAJ defends justice and fairness of injured persons and safeguarding victims' rights, with a particular focus on the right to trial by jury for injured persons. The AAJ also works to strengthen the civil justice system through education and disclosure of information critical to public health and safety.
The association began in a hotel by a group of nine plaintiffs' attorneys involved in workers' compensation litigation case and has grown into the world's largest trial bar association, consisting of member affiliates in the U.S., Canada and worldwide. Today, AAJ is a broad-based, international coalition of attorneys, law professors, paralegals, and law students.

To its members, the association offers many diverse areas of trial advocacy and provides lawyers with the information and professional assistance often needed to serve clients effectively. The organization seeks to protect the constitutional values inherent in the civil justice system.
Since founded in 1946 as the National Association of Claimants' Compensation Attorneys (NACCA), AAJ has changed names several times, including three name changes before 1973.
While the association is often recognized as the Association of Trial Lawyers of America (ATLA), in 2006 the organization officially changed its name to the American Association for Justice (AAJ).
---
Membership Benefits of Joining the AAJ

---
Trial Lawyers Care (TLC)
In an effort to aid the victims of the September 11 attacks, AAJ responded by establishing the largest pro-bono project in American history, Trial Lawyers Care (TLC).
Over 1,100 lawyers provided representation to more than 1,700 victim families as a result of the formation of this charitable non-profit organization and over $200 million in legal services were made available free of charge.

TLC also created The Hurricane Katrina Relief Fund to help give aid to families and individuals impacted from the tragedy throughout Louisiana, Mississippi, and Alabama.
---
Membership in AAJ

AAJ membership offers provides opportunities for all levels of legal professionals involved in victims' rights, from students to lawyers to affiliates of the legal community. Members have access to abundant resources aimed to support education and opportunities for lawyers as well as the overall advancement of trial law.

Membership in AAJ provides networking opportunities with many of the top personal injury attorneys in the United States.
The AAJ 2019 Annual Convention had more than 3,000 people in attendance. The convention was held from July 27-30 in San Diego, California. At the First-Time Attendee & New Member Luncheon - first-timers got to mix and mingle with some of AAJ's convention veterans, long-time members, and AAJ Officers.
---
Types of Membership
Regular Member
President's Club
Associate Member
International Member
Government Member
Military Member
Law Professor
Paralegal Affiliate
Law Student
---
Join or Renew Your Membership in AAJ

If you would like to become a member of the Association for Justice (AAJ), or if you are already an AAJ member and would like to renew or upgrade your membership, you can do so by registering or logging in to the AAJ Membership page. You may also fill out an AAJ Membership Application and mail or fax the document back to the AAJ Membership office:
American Association for Justice
PO Box 50225
Washington, DC 20091
800-424-2725 or 202-965-3500, ext. 8611
---
Past Presidents of the AAJ
Congratulations to Tobi Millrood on his ascension to President-Elect of the American Association for Justice.
The current or past presidents of the AAJ include: 2019-20 Bruce H. Stern
2018-19 Elise R. Sanguinetti
2017-18. Kathleen L. Nastri
2016-17 Julie Braman Kane
2015-16 Larry A. Tawwater
2014-15 Lisa Blue
2013- 14 Burton LeBlanc
2012–13 Mary Alice McLarty
2011–12 Gary M. Paul
2010–11 C. Gibson Vance
2009–10 Anthony Tarricone
2008–09 Les Weisbrod
2007–08 Kathleen Flynn Peterson
2006–07 Lewis S. "Mike" Eidson
2005–06 Kenneth M. Suggs
2004–05 Todd A. Smith
2003–04 David S. Casey, Jr.
2002–03 Mary E. Alexander
2001–02 Leo V. Boyle
2000–01 Frederick M. Baron
1999–00 Richard H. Middleton, Jr.
1998–99 Mark S. Mandell
1997–98 Richard D. Hailey
1996–97 Howard F. Twiggs
1995–96 Pamela Anagnos Liapakis
1994–95 Larry S. Stewart
1993–94 Barry J. Nace
1992–93 Roxanne Barton Conlin
1991–92 Bob Gibbins
1990–91 Michael C. Maher
1989–90 Russ M. Herman
1988–89 Bill Wagner
1987–88 Eugene I. Pavalon
1986–87 Robert L. Habush
1985–86 Peter Perlman
1984–85 Scott Baldwin, Sr.
1983–84 David S. Shrager
1982–83 Howard A. Specter
1981–82 Richard F. Gerry
1980–81 Harry M. Philo
1979–80 Theodore I. Koskoff
1978–79 Michael F. Colley
1977–78 Tom H. Davis
1976–77 Robert G. Begam
1975–76 A. Ward Wagner, Jr.
1974–75 Robert E. Cartwright
1973–74 Leonard M. Ring
1972–73 J. D. Lee
1971–72 Marvin E. Lewis
1970–71 Richard M. Markus
1969–70 Leon L. Wolfstone
1968–69 Orville W. Richardson
1967–68 Samuel Langerman
1966–67 Al J. Cone
1965–66 Joseph Kelner
1964–65 Bill Colson
1963–64 Jacob D. Fuchsberg
1962–63 John J. Lane
1961–62 Edward B. Rood
1960–61 Leo S. Karlin
1959–60 Lou Ashe
1958–59 Alfred S. Julien
1957–58 Perry Nichols
1956–57 Quitman Ross
1955–56 Ben C. Cohen
1954–55 Payne H. Ratner
1953–54 James A. Dooley
1952–53 James P. Mozingo, III
1951–52 John J. Watts
1950–51 Melvin M. Belli
1949–50 Homer H. Bishop
1948–49 Samuel Z. Kaplan
1947–48 James Landye
1946–47 Benjamin Marcus
---
Historical Connection of the AAJ with the NBTA
An article appearing in AAJ's Trial Magazine in July of 1980 explained the close historic connection between ATLA/AAJ and the NBTA:
"One of ATLA's major issues today—one through which it hopes to make great strides in providing adequate legal representation—is the certification of legal specialists. For this reason, ATLA established the National Board of Trial Advocacy (NBTA)."
True to this 35-year-old vision, more than 2,000 AAJ members have earned NBTA board certifications in civil trial law or NBTA board certifications in criminal trial law.
The National Board of Trial Advocacy (NBTA) is a not-for-profit American Bar Association accredited legal specialty certification program. NBTA is a sponsor of the upcoming 2016 American Association for Justice Winter Convention being held on Saturday, Feb. 27, 2016, from 9 am to 12 pm at the Royal Palm I-IV, Mizner Center, Boca Beach Resort & Club. Members of the NBTA are encouraged to stop by and pick up NBTA-branded conference ribbons for their badges as well as other materials.
---
This article was last updated on Thursday, September 5, 2019.