Indiana Trial Lawyers Association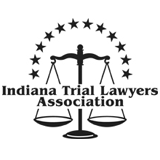 Logo of the Indiana Trial Lawyers Association
ITLA members handle a wide range of different types of claims, including personal injury, medical malpractice, wrongful death, worker's compensation, and social security disability law.
In addition to being a professional organization for Indiana personal injury lawyers, ITLA also advocates for the right to a jury by lobbying the Legislature and through its political arm, the ITLA LAW Political Action Committee (PAC). The LAW PAC advocates for nonpartisan support of candidates for the Indiana House and Senate who support equal justice under the law in civil cases. It can raise funds and make political expenditures for and against candidates.
---
Benefits of Membership in the ITLA
Benefits of joining the Indiana Trial Lawyers Association include:
Discounts on many of the best CLE seminars offered in the state as well as access to on-line CLE seminars hosted by ITLA;
Leadership and networking opportunities in the organization;
Access to the members only section of IndianaTrialLawyers.org, including list server messages, document bank, seminar materials, EClips, and verdict article index;
Access to TrialSmith documents including a deposition bank, briefs and motions, legal forms. and expert database
Access to ITLA publications including "The Verdict" an quarterly magazine with timely articles on hot topics including personal injury, medical malpractice product liability, premise liability and consumer right;
Complimentary meeting room for ITLA members at the headquarters in Indianapolis, Indiana; and
Subscription to ITLA's quarterly magazine.
---
Sections in ITLA
Members in ITLA have an opportunity to get involved and take leadership positions within various lawyer sections including the Women's Caucus Section, the Worker's Compensation Section, and the Young Lawyers Section.
The Women's Caucus Section serves the interests of female lawyers within the organization.
The Workers' Compensation Section serves the interests of ITLA members who take worker's compensation cases. Members of the Worker's Compensation Section enjoy a special listserve and invitation to a CLE seminar devoted exclusively to Worker's Compensation.
The Young Lawyers Section is open to attorneys who have been out of law school for 10 years or less. The YLS hosts several special events throughout the year, including happy hours and outings to local sports events. The Young Lawyers Section also has a special listserve for its members in this section.
---
ITLA Committees

The Indiana Trial Lawyer Association has four active committees:
Executive
Government Affairs
Nominating
Amicus Curiae
---
Contact Information for ITLA
Indiana Trial Lawyers Association
150 West Market Street Suite 210
Indianapolis, Indiana 46204
Phone: (317) 634-8841
Fax: (317) 634-4898
---
This article was last updated on Thursday, September 5, 2019.