Vermont Association for Justice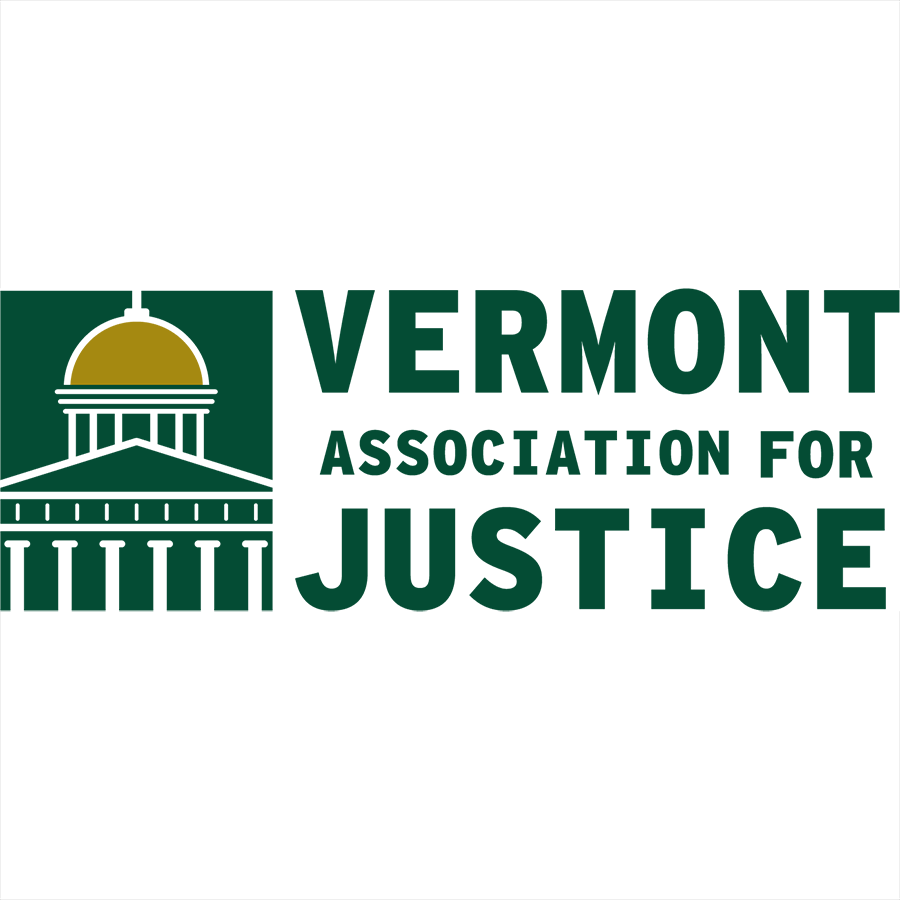 Logo of the Vermont Association for Justice
---
Contact Information
Vermont Association for Justice (VTAJ)
1 Main Street Suite 305
P.O. Box 1366
Burlington, VT 05402-1366
Phone: (802) 861-7999
Fax: (802) 861-7995
---
Purpose of the VTAJ
As an affiliate of the Association of Trial Lawyers of America, membership in the organization is available to attorneys who regularly represents the plaintiffs in Vermont personal injury cases or workers' compensation cases. The headquarters for the organization are in Burlington, VT.
VTAJ has emerged as a powerful force in state politics. The VTAJ's political action committee, the Vermont Trial Lawyers for Public Justice, provides contributions to candidates that support individual rights in an adversarial civil justice system.
The purpose of this nonprofit educational association include:
upholding and defending the Constitutions of the United States and the State of Vermont;
promoting and advancing the administration of justice for the public good and trial by jury;
training in all fields and phases of advocacy;
advancing the cause of those who are injured in person or property and who must seek redress therefore; and
resisting the undue and constant efforts of others to curtail the rights of such injured persons.
---
Benefits of Membership in VTAJ
The benefits of joining the Vermont Association for Justice (VAJ) include;
A listing on the website's "Find a Lawyer" feature;
Discounts on the registration fees to continuing legal education (CLE) seminars hosted by the VTAJ;
Access to publications including the VTAJ Report;
Access to the List Server and particular List Servers for Employment, Workers' Compensation, Medical Malpractice, Criminal Law and Family Law;
Networking opportunities at the VTAJ Annual Conference held in late Spring and the annual VTAJ Golf Tournament; and
Access to TrialSmith expert deposition, form, and brief bank.
---
VTAJ Publications
Members receive the VTAJ Report which has articles, verdict reports, legislature reports, and trial advocacy strategies. Members also have the opportunity to submit articles for publication.
---
Membership Levels in the VTAJ
The different membership levels in the VTAJ include:
Regular Members
Sustaining Members
Life Members
Honorary Members
Student and Law Clerk Members
Public Service Members
Law School Faculty Members
Retired and Out of State Members
---
Leadership in VTAJ
The future, current and past presidents of the VTAJ include:
James Foley (President-Elect)
Michael Green (President)
Vanessa Kittell (Immediate Past President)
Karen Allen
Patricia Benelli
Patrick Biggam
John Collins
William T. Counos, II
Beth Danon
Leighton Detora
John F. Evers
Gregory P. Howe
Emily Joselson
John L. Kellner
Mark Kolter
Christopher Larson
Christopher Maley
Robert McClallen
P. Scott McGee
Jerome F. O'Neil
Todd Schlossberg
Thomas Sherrer
Tina Shoup
Sheila Ware
D. Patrick Winburn
---
This article was last updated on Thursday, September 5, 2019.