Wyoming Trial Lawyers Association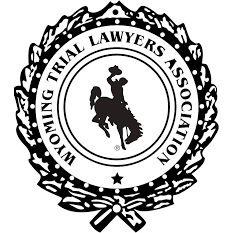 Logo of the WTLA
WTLA's more than 400 members are largely Wyoming personal injury lawyers, dedicated to protecting an individual's rights and promoting safety. WTLA hosts high quality continuing legal education (CLE) seminars throughout the year on a variety of topics related to civil justice.
The association's political arm, Lawyers Active in Wyoming Political Action Committee (LAWPAC), raises money and makes campaign expenditures for and against candidates for elected office.
---
Benefits of Membership in WTLA
The benefits of membership in the Wyoming Trial Lawyers Association include:
Discounts off the registration fees at continuing legal education (CLE) seminars hosted by WTLA;
A free subscription to the organization's newsletter, The Coffee-House;
Access to TrialSmith's brief, motion, and expert deposition bank;
A voice in state politics through the organization's political action committee - Lawyers Active in Wyoming / LAWPAC;
Access to online research services from FastCase; and
Access to the verdict and settlement database maintained by WTLA.
---
WTLA Committees
The Wyoming Trial Lawyers Association encourages its members to get involved by volunteering their time serving on various committees, including;
Women's Caucus
Membership Committee
Convention Committee
LAWPAC
CLE Committee
Coffee-House Committee
Teton/Fundraising Committee
Legislative Committee
Rapid Response Committee
Workers Compensation Committee
Criminal Defense Committee
---
Contact Information for WTLA
Cheyenne Office of the WTLA
2111 Warren Avenue
Cheyenne, WY 82001
Phone: (307) 635-0820
Fax: (307) 634-5331

Thermopolis Office of the WTLA
Located in the Storyteller Bookstore
528 Broadway Street
Thermopolis, WY 82443
Phone: (307) 460-4747
---