Hawai'i Association for Justice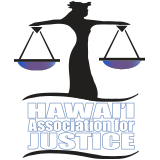 Logo for the Hawai'i Association for Justice
In addition to being a professional organization for Hawai'i personal injury lawyers and other attorneys, the HAJ educates the public about civil justice issues in consumer's rights, personal injury, wrongful death, medical malpractice, commercial litigation, family law, employment law, insurance law, product liability cases, and workers' compensation law.
---
Benefits of Membership
As an affiliate of the American Association for Justice, the HAJ provides networking opportunities to its members, as well as Continuing Legal Education (CLE) seminars. HAJ members are committed to promoting fair and equal justice in the civil justice system.
---
People's Law School
HAJ sponsors a program called the People's Law School. The program seeks to educate the public about the legal system. People might learn about their right to obtain justice through civil courts if they are hurt, their legal rights as a tenant, their rights if they are accused of a crime, and how the law touches their lives in family court and in wills and estates.
---
Contact Information for HAJ
Hawai'i Association for Justice
PO Box 338
Kailua, HI 96734
Phone: (808) 262-9191
Toll Free Fax: 1-866-871-2035
---
This article was last updated on Thursday, September 5, 2019.