National College for DUI Defense
Logo of the National College for DUI Defense®, Inc.
The National College for DUI Defense®, Inc. (NCDD), is the largest non-profit, professional organization of attorneys focused specifically on defending DUI and DUI-related criminal charges. For more than 20 years, NCDD has had as its members the brightest and best DUI defense lawyers in the United States. At last count, the NCDD has more than 2,000 members worldwide.

The purpose of the group is to provide education, training, and recognition to this specialized area of criminal defense. The NCDD is headquartered in Montgomery, Alabama.
---
History of NCDD
NCDD was formed in 1995 by ten (10) criminal defense attorneys, who are now known as the "Founding Fathers" of the organization. The Founding Fathers invited approximately 100 other DUI defense attorneys from across the United States to help form the National College for DUI Defense.

NCDD recently celebrated its 20th anniversary and recognized the lawyers who met in Chicago in 1994 to found the College including:
Leaders in the organization include the Dean, Board of Regent, Fellows, and Dean Emeritus. The executive director of NCDD is Rhea C. Kirk and the Dean is James Nesci. NCDD remains independent by relying on its members for financial support.

Membership levels include General Membership, Sustaining Membership, Founding Membership and a Board of Regents. Each state also has a "state delegate."
---
NCDD Sponsored CLE Seminars
NCDD members must attend at least one seminar every two (2) years that is sponsored or co-sponsored by the National College for DUI Defense (NCDD) or a state seminar approved by NCDD, Inc. NCDD sponsors or co-sponsors several seminars each year including:
a three-day seminar held each summer at Harvard Law School (the Summer Session);
a seminar each spring in New Orleans, Louisiana, called the "Mastering Scientific Evidence" seminar (the Spring Session); and
a winter seminars which is held at various locations across the United States (the Winter Session).
The NACDL's 37th Annual Advanced Criminal Law Seminar "Winning Strategies fro the Defense" will be held at the St. Regis Aspen Resort in Aspen, CO, from January 15-18, 2017.

NCDD also sponsors several state seminars throughout the year and across the country that are co-sponsored by a state bar association or state criminal defense association.
---
Board Certified Attorneys in DUI Defense Law
In 2003, the American Bar Association (ABA) acknowledged DUI Defense Law as a specialty area in the practice of criminal defense. In 2004, the ABA authorized its "Certificate of Accreditation" to the NCDD Board Certification program. Four years later, the American Bar Association re-accredited the NCDD program for certified DUI defense lawyers.

Update: The next NCDD Board Certification Exam is scheduled for January 20, 2016, during the Winter Session at the Ritz Carlton in Marina Del Ray, California.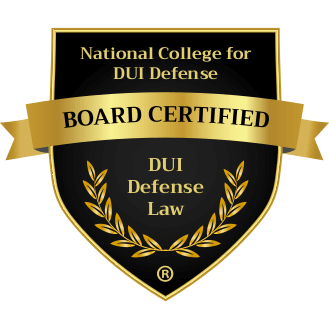 According to the NCDD website, the NCDD is the only organization in the country accredited to grant Attorneys Board Certification in DUI Defense Law. The ABA accreditation program is currently recognized in 20 states, although some states have additional requirements for approval. At last count, approximately 45 attorneys had earned board certification in DUI Defense Law.
At Lawyer Legion, we acknowledge attorneys who have earned board certification in DUI defense law in online attorney directory. Use our directory to find a board certified DUI defense attorney in your state that has earned board certification from the NCDD. You can search by the attorney's name or look at all board certified attorneys in DUI Defense Law in a particular state.
---
Benefits of Membership in NCDD
Applicants to be a general member in NCDD must be eligible to practice law in the United States, Canada or Australia, demonstrate substantial current involvement in the practice area of DUI defense and other related crimes, and provide two reference letters showing competency in DUI defense and good character.

Attorneys who serve in any capacity, part time or full time, with a law enforcement agency or prosecutor's office, are not eligible to join NCDD. The benefits of joining NCDD include:
CLE seminars sponsored by NCDD;
access to advanced training in Standardized Field Sobriety Training, Breath Alcohol Defenses, Blood Alcohol Defenses, Gas Chromatography for Alcohol Tests, and Mass Spectrometry for Drug Tests;
access to the "DUI Appeal of the Day" discussion forum;
a subscription to the quarterly NCDD Journal;
access to email discussion group where members can ask questions and share information with other members and carefully selected experts;
the opportunity to earn a designation as "Board Certified" from the NCDD if the applicant meets certain requirements of trial experience and passes a written and oral examination;
a listing in the "Find an Attorney" directory on the NCDD website; and
access to an extensive online library of scientific and legal articles related to DUI / DWI litigation.
---
Erwin-Taylor Award
The NCDD presents the "Erwin-Taylor Award" (originally called the "Richard E. Erwin Lifetime Achievement Award") to attorneys in recognition of their contributions to drunk driving defense.
---
Additional Resources
Wiki Page for the National College for DUI Defense - learn more about the history of the NCDD and its current membership.
---
Contact Information for NCDD
National College for DUI Defense (NCDD)
445 S Decatur Street
Montgomery AL 36104
Phone: (334) 264-1950
Fax: (334) 264-1920
---
---
This article was last updated on Thursday, December 15, 2016.