New Hampshire Association of Criminal Defense Lawyers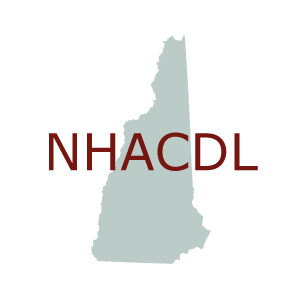 Logo of the New Hampshire Association of Criminal Defense Lawyers
The New Hampshire Association Of Criminal Defense Lawyers (NHACDL) is a voluntary, professional association of the criminal defense attorneys in the state of New Hampshire. NHACDL is the only statewide organization devoted to criminal defense.

More than 300 members belong to this organization including both private attorneys and public defenders practicing in state and federal court.
NHACDL estimates that its members include nearly half of all practicing public defenders and most members of the private bar who are New Hampshire criminal defense lawyers.
As an affiliate of the National Association of Criminal Defense Lawyers (NACDL), the NHACDL's stated mission is to "ensure, safeguard and promote the effective assistance of counsel in criminal cases, to support the lawyers this work, and to preserve the fairness and integrity of the criminal justice system."

NHACDL monitors pending legislation and maintains a lobbying presence in Concord, New Hampshire, during the legislative session.
---
Benefits of Membership
For criminal defense lawyers in New Hampshire, the benefits of joining NHACDL include:
Access to a 300-member email discussion group, or listserv, devoted to criminal practice in New Hampshire;
The opportunity to attend training, CLEs, and workshops including a two full day annual meeting and CLE seminar;
Networking with some of the most senior and experienced criminal defense lawyers in New Hampshire;
Participation in policy and legislative activities that benefit the criminal defense bar ad helpful to criminal defendants;
Access to a motions bank, a depository of unpublished trial court orders, lists of experts and other resources;
Ability to request that NHACDL appears as amicus curiae (or "friend of the court") in appellate cases involving questions of general importance in the area of criminal practice;
Protection of a "strike force" of attorneys who may provide free representation to any member who is "subpoenaed, threatened with criminal prosecution or subjected to a disqualification motion as a result of providing proper representation in a criminal case";
The opportunity for referrals from the "find a lawyer" feature on the NHACDL website which allows other attorneys or members of the public to search for either state court practitioners or federal court practitioners in a particular county in New Hampshire.
---
Champion of Justice Award
Each year, NHACDL designates a member as a "Champion of Justice." The NHACDL "Champion of Justice" award is reserved to those who have "demonstrated achievement in the practice of criminal defense and have provided outstanding service to the organization and/or community." Past winners of the award include:
---
Contact Information for NHACDL:
New Hampshire Association of Criminal Defense Lawyers
764 Chestnut Street
Manchester, New Hampshire 03104
Phone: (603) 624-7777
Fax: (603) 669-9330