Minnesota Association of Criminal Defense Lawyers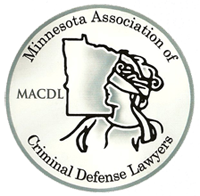 Logo of the Minnesota Association of Criminal Defense Lawyers
The Minnesota Association of Criminal Defense Lawyers (MACDL) is a not for profit corporation with offices in Minneapolis, MN. MACDL is the leading statewide association exclusively serving the comprehensive needs of the criminal defense bar.
Since its creation, MACDL has continued to promote excellence in the practice of criminal law and protect the rights of the accused. Today, the MACDL has grown to more than 200 members including many of the top criminal defense attorneys in the state.
Members including attorneys in the private sector and public defenders. Members represent individuals accused of crimes in both the state and federal courts throughout the state. Membership is also opened to students and investigators.
Many of the top criminal defense lawyers in Minnesota are members of MACDL. Members enjoy publications focused on criminal justice issues and discounts on CLE seminars.
---
Benefits of MACDL Membership
The benefits of joining MACDL include:
a listing in the membership directory;
access to online publications in PDF format;
access to the online brief bank;
representation through Strike Force when the attorney is threatened by prosecutors or the courts for providing proper legal representation to a client accused of a crime;
discounts to quality Continuing Legal Education (CLE) seminars;
an invitation to the annual Jack Wylde memorial golf tournament and MACDL dinner;
access to the discussion forum;
a voice through the Legislative Committee which advocates in St. Paul for needed reforms and to fight restricting individual rights; and
a subscription to Challenger - a quarterly journal on trial advocacy, practice tips and criminal justice issues.
The different categories of membership include:
Public Level Membership for Public Defenders, Public Interest Lawyers, and Lawyers with less than 3 years in practice;
Private Defender Membership for lawyers in the private sector with more than three years in practice;
Sustaining Membership pay a larger contribution and can register for the Fall CLE at no charge;
Membership for Students; and
Membership for Criminal Defense Investigators.
---
Contact Information for MACDL
Minnesota Association of Criminal Defense Lawyers
P.O. Box 580058
Minneapolis, MN 55458
(612) 916-2235
---