Fort Bend County Criminal Defense Attorneys Association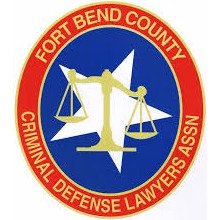 Logo of the Fort Bend County Criminal Defense Attorneys Association
The FBCCDLA is an affiliate of the Texas Criminal Defense Attorneys Association.
---
Contact Information:
Fort Bend County Criminal Defense Lawyers Association, Inc.
201 S. 11th St., Richmond, TX 77469
Telephone: 281-341-8458
Fax: 281-635-3330
---
Benefits of Membership in FBCCDAA
The benefits of joining FBCCDAA include:
networking opportunities with many of the top local criminal defense attorneys in Richmond, TX;
invitations of several CLE seminars each year;
access to Members Only sections of the website with information on seminar papers and motion bank; and
access to FBCCDAA scanners in the District Attorney's Office subject to their scanning policies.
New applicants must be endorsed by a current FBCCDAA member.
---
Criminal Defense Attorneys in Fort Bend County, TX
At Lawyer Legion, we understand the importance of local criminal defense bar associations. The FBCCDAA helps criminal defense attorneys in Fort Bend County and throughout Richmond, TX, have a unified voice. The FBCCDAA also helps with support, education, and networking opportunities for its members.

If you are a criminal defense lawyer in the State of Texas then consider the benefits of joining the Texas Criminal Defense Lawyers Association or the county affiliate organization in Richmond, Fort Bend County, Texas.