Nevada Legal Organizations
Attorneys in Nevada join state level legal associations for a variety of reasons including networking opportunities. Many of these organizations sponsor quality CLE seminars. Legal organizations in Nevada include the Nevada Attorneys for Criminal Justice and the Nevada Justice Association.
---
The State Bar of Nevada
The State Bar of Nevada 600 E. Charleston Blvd
Las Vegas, NV 89104
Phone: 702-382-2200
Fax: 702-385-2878
The State Bar of Nevada is a more than 80-year-old public corporation supervised by the Nevada Supreme Court. Founded in 1928, membership in the bar is mandatory, as it helps regulate attorneys in Nevada through admissions, ethics, and client protection divisions. Additionally, the State Bar of Nevada provides educational and developmental programs for both its members and the public. The State Bar of Nevada was preceded by a voluntary organization founded in 1911. The bar has over 10,000 members today – 71 percent of which reside in Clark County.
---
The Nevada Attorneys for Criminal Justice (NACJ) was established in 1989. NACJ seeks to protect federal and state constitutional rights and to improve the quality and administration of justice for those accused of crimes. Many criminal defense attorneys in Nevada, practicing in both state and federal court, belong to this organization.…Read more »
---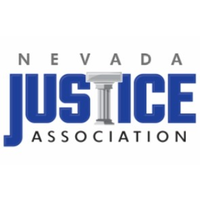 Logo of the Nevada Justice Association
---