Criminal Defense Attorneys of Michigan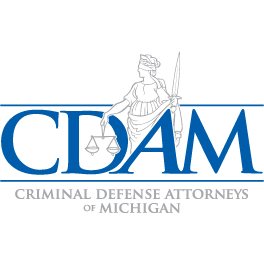 Logo of the Criminal Defense Attorneys of Michigan
---
Benefits of CDAM Membership
CDAM provides education, resources, and support to Michigan criminal defense attorneys through its spring and fall conferences and its annual trial college. CDAM publishes a quarterly newsletter, Right to Counsel, and an annual Member Directory.
In addition, CDAM provides information and support to the criminal defense community and members of all three branches of state government in Michigan. CDAM's services and publications reach over 2,500 individuals and organizations statewide.
CDAM sponsors a series of Continuing Legal Education (CLE) conferences geared towards providing a nuts and bolts approach to helping the criminal law practitioners. The members of CDAM include both solo practitioners and attorneys in large law firms.
The benefits of membership to CDAM include:
A listing on the CDAM website designed with a "Find a Lawyer" membership directory which the public can use to search by name, area of expertise, or geographically (by city, county or zip code);
Networking opportunities with some of the most experienced criminal defense lawyers in Michigan;
Reduced costs to attend various CLE class, conferences, and seminars throughout the year;
Opportunity to attend the annual awards banquet and signature fundraiser;
Participation in the Trial Practice College training program;
Access to the member-only sections of CDAM's website which provides training materials, online video training, and member forums.
CDAM also publishes an online newsletter called "Right to Counsel" which provides criminal defense attorneys with information on the organization, legislature changes, and recent appellate decisions.
---
Leadership of CDAM
CDAM is governed by officers including a president, first and second vice president, secretary, and treasurer. The organization is also run by board members, an executive director, and an education director.
Members are encouraged to take on leadership roles in the standing committees including:
amicus committee
by-laws committee
education committee
finance committee
membership committee
rules committee
---
CDAM Upcoming Events
The members of the Criminal Defense Association of Michigan are invited to sign up for several upcoming events including:
CDAM Fall Conference
12 Nov 2020 9:30 AM
Boyne Mountain, Boyne Falls, MI
Trial College: Advanced Case Development
16 Aug 2020 5:00 PM Bay City Doubletree Hilton
CDAM Summer Conference
30 Jul 2020 9:30 AM Radisson, Kalamazoo
CDAM Trial College Intensive: Voir Dire
03 May 2020 12:00 PM Boyne Mountain, Boyne Falls, MI
CDAM Day at the Capitol
15 Apr 2020 8:45 AM State Bar of Michigan
CDAM Evidence Boot Camp D at OCBA
27 Mar 2020 9:00 AM Oakland County Bar Association
---