American Board of Professional Liability Attorneys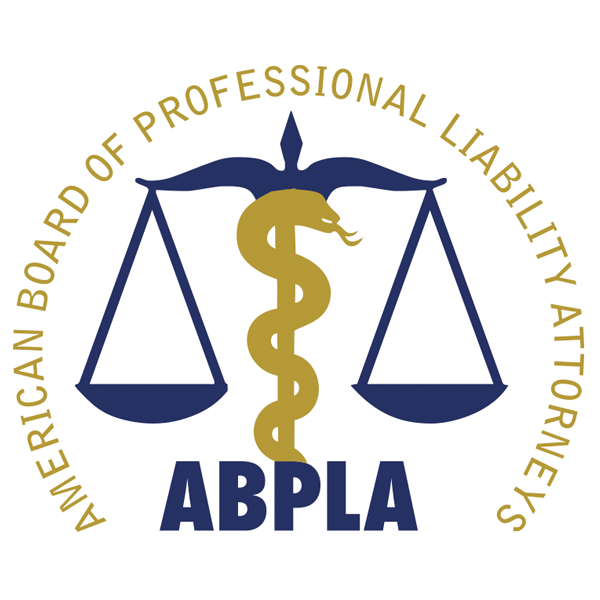 The attorneys who earn this certification are recognized as leaders in professional negligence law. Board Certification by ABPLA provides members of the public with an objective standard to evaluate the lawyer's qualifications, skills and experience as a professional malpractice lawyer.
The American Board of Professional Liability Attorneys offers certification in two different types of specialty areas including:
---
Requirements for Specialty Certification with the ABPLA
To become a specialist certified by the American Board of Professional Liability Attorneys (ABPLA) the attorney is required to meet the following minimum standards, the attorney must:
Be an active member of at least one state bar association in the United States and must be a member in good standing of that organization;
Have extensive experience in the area of professional malpractice, demonstrated by showing that a certain percentage of the attorney's practice is devoted to this unique area of the law;
Show he or she has participated in a certain number of trials, mediations, arbitrations, and pre-trial discovery in cases specifically devoted to professional liability;
Meet certain minimum standards for continuing legal education (CLE) seminars devoted to the professional liability, malpractice or negligence litigation;
Pass a written examination designed to test the attorney's knowledge in the field of professional liability law; and
Provide the names of other attorneys who act as references by attesting to the attorney's competency in his practice area.
---
Legal Professional Liability

"Legal liability law" involves when an attorney or law firm causes a client damages after negligently providing legal services or failing to provide legal services. To be considered legal malpractice, the negligent services must fall below accepted standards required under the circumstances in the legal community.
Like medical malpractice, legal malpractice falls within the broader category of professional negligence. Attorneys often obtain legal liability insurance to offset the risk that might occur if a lawsuit if filed on a claim of legal malpractice.

Related terms include "legal liability law" or "legal professional negligence law." A certified legal malpractice lawyer typically represents clients suing their former counsel.
---
Medical Professional Liability

The definition of the term "medical malpractice" is when a health care provider such as a doctor, nurse or hospital, causes a patient to suffer an injury or death by negligently providing treatment or failing to provide treatment.
To be considered medical malpractice, the negligent care must fall below accepted standards of care required under the circumstances in the medical community.
Like legal malpractice, medical malpractice falls within the broader category of professionals negligence. In most cases, medical professionals obtain medical liability insurance to offset the risk that might occur if a lawsuit is filed on a claim of professional malpractice. Attorneys who have earned specialty certification in medical malpractice typically represent patients.
Recent statistics on medical malpractice show that tens of thousands of patients in the United States die each year as a result of medical errors. Medical malpractice law is also called "medical liability law" or "medical negligence law."
Medical malpractice cases are often complex and expensive requiring expert witness testimony. In many states, a claim for medical malpractice must be filed within a specific time period often called the statute of limitations. Certain states have "caps" on damages in medical malpractice cases.
---
Past Presidents of the ABPLA

Richard "Dick" B. Collins, a medical malpractice attorney in Tallahassee, FL, will serve as the ABPLA President from 2016 to 2018. The past presidents of the ABPLA include:
Michael Pope
Sam Shore
Harvey F. Wachsman
---
Upcoming Events of the ABPLA
The 37th Annual Convention of the ABPLA will be May 19-21, 2016 at the JW Marriott San Francisco at 500 Post Street, San Francisco, CA 94102. Attendees can earn up to 11 hours of CLE credit depending on the state's bar requirements.

Hosted by the ABPLA, the National Legal & Medical Malpractice Conference is scheduled for May 4-6, 2017, in Nashville, Tennessee, at the new Thompson Hotel.
---
Contact Information:
American Board of Professional Liability Attorneys
4355 Cobb Parkway
Suite J-208
Atlanta, GA 30339
Phone: (404) 919-4009
Fax: (866) 531-9643
---
This article was last updated on Friday, March 3, 2017.