Louisiana Legal Organizations
For lawyers in Louisiana joining state level legal associations provide a variety of benefits including networking opportunities, publications on a specialty practice areas of the law, and access to quality CLE seminars.
---
Louisiana State Bar Association
www.lsba.org
601 St. Charles Avenue, New Orleans, LA 70130 · 504-566-1600

The beginnings of the Louisiana State Bar Association can be traced to the Association of the Bar of New Orleans in 1847. The LSBA was officially founded in 1929. In 1941 the Louisiana State Bar Association was sanctioned by the Louisiana Supreme Court as the official, mandatory bar association for the state. The LSBA has eight goals as a part of its mission, including increasing professional competence, identifying and cultivating potential volunteers and leaders, increasing member participation, providing customized products, programs, and services, increasing legal career satisfaction, improving access to justice for all, and ensuring the participation of all minorities in association leadership.
---
Louisiana Association for Justice (LAJ)
The Louisiana Association for Justice (LAJ) serves civil trial lawyers throughout the state from its headquarters in Baton Rouge. Many of the top personal injury attorneys in Louisiana belong to this organization. Although both defense and plaintiff attorneys are members of the organization, most of the members represent plaintiffs in civil actions. The LAJ fights to protect the rights of the individual in our civil justice system and uphold the honor of the legal profession.
---
Louisiana Association of Criminal Defense Lawyers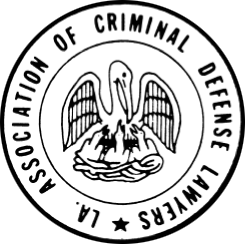 Logo of the Louisiana Association of Criminal Defense Lawyers
The Louisiana Association of Criminal Defense Lawyers, Inc. (LACDL) is a non-profit corporation formed in 1985. In 2010 the original LACDL combined with the Louisiana Public Defenders Association. Today the group has grown to more than 500 members with a full time staff. Members include many of the top criminal defense attorneys in Louisiana.

LACDL promotes excellence in the practice of criminal law, lobbies the legislature, and protects the rights of the accused. LACDL is the leading statewide association, headquartered in Baton Rouge, LA, exclusively serving the comprehensive needs of the criminal defense bar.
---
Other Legal Associations for Attorneys in Louisiana
Other legal associations for attorneys in Louisiana include: