Washington Association of Criminal Defense Lawyers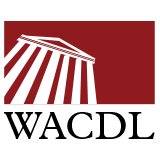 Logo of the Washington Association of Criminal Defense Lawyers
The Washington Association of Criminal Defense Lawyers (WACDL) was established in 1987 to improve the quality and administration of criminal justice in the state of Washington. Its currently has nearly 1,100 members. The organization is an affiliate of the National Criminal Defense Lawyers Association.
The WACDL is governed by an elected board of governors, and employs an executive director and other staff. Membership is open to Washington criminal defense lawyers, including both public defenders and attorneys in private practice.
---
Benefits of Membership in the WACDL
The benefits of joining the Washington Association of Criminal Defense Lawyers include:
Listing on the WACDL website designed with a "Find an Attorney" membership directory;
Discounted rates to attend Continuing Legal Education (CLE) seminars;
Publications such as the Washington Criminal Defense magazine and the DUI practice email newsletter;
Manuals on important criminal defense topics;
Online legal document library;
Online database of expert witnesses;
Email discussion groups, each with a different focus, including DUI, state court, federal court or post-conviction motions;
Resource panel;
Assistance from the "three strikes" task force or the forfeiture task force; and
Mentoring program.
---
Committees on the WACDL
Members of the Washington Association of Criminal Defense Lawyers are encourage to serve on various committees and task forces including:
Amicus
Annual Conference
CLE
Court Rules
Death Penalty
Defense Magazine
Diversity
Email Lists Oversight
Ethics Hotline
Holiday Party
Judicial & Prosecutorial Conduct
Legislative
Public Defense
Publications
Sealing & Vacation
Strike Force
---
Past Presidents of WACDL
The Washington Association of Criminal Defense Lawyers has a rich history of improving the practice of criminal defense throughout Washington made possible because of the services of its past presidents.
---
Contact Information
Washington Association of Criminal Defense Lawyers
1511 Third Ave, Suite 503
Seattle, WA 98101
Phone: 206-623-1302
Fax: 206-623-4257