Ohio Association of Criminal Defense Lawyers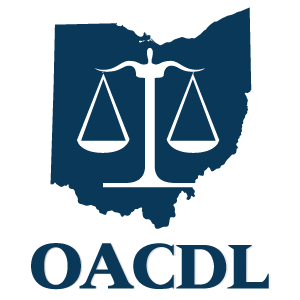 Logo of the Ohio Association of Criminal Defense Lawyers
OACDL sponsors continuing legal education (CLE) seminars and courses, including the annual Death Penalty and Superstar Seminars, for Ohio criminal defense attorneys.
Membership in OACDL is available to all attorneys in good standing who have an interest in criminal defense. Additionally, an associate member category is available to other professionals in the criminal justice system such as paralegals, investigators and expert witnesses. A law firm practicing criminal defense in Ohio can join on behalf of the lawyers in the firm. Even law school students can join OACDL with a student membership.
OACDL is an affiliate member of the National Association of Criminal Defense Lawyers.
---
Benefits of Joining OCADL as a Member
The benefits of becoming a member of OCADL include:
Access to a Listserv that allows the members to communicate with each other directly, discuss recently decided cases and to share information;
Savings on registration fees to attend CLE Seminars sponsored by OACDL;
Discounts on publications including the Criminal Law Case Book, authored by the Franklin County Public Defender's Office;
The protections of OACDL's Strike Force to stand up for a member who is improperly threatened for zealously representing a client;
Ability to request the assistance of the Amicus Committee if a case on appeal is likely to have an important impact statewide;
Free access to OACDL publications including the Vindicator - a newsletter that showcases articles by other criminal defense attorneys in Ohio about the organization and issues that impact the profession; and
Opportunities for referrals from the public, other attorneys, and members of OACDL through the "Find a Lawyer" or "Find an Associate Member" feature on the website.
Many criminal defense attorneys in Ohio also belong to associations organized at the county level including the Cuyahoga Criminal Defense Lawyers Association (CCDLA) and the Central Ohio Association of Criminal Defense Lawyers (COACDL).
---
Committees for OACDL
OACDL encourages its members to help the organization by serving on various standing committees including the following:
Amicus Committee
CLE Committee
DUI Committee
Indigent Defense Committee
Legislation Committee
Membership Committee
Publication Committee
Technology Committee
---
OACDL Awards
Each year the Ohio Association of Criminal Defense Lawyers recognizes a member of OACDL for excellence in death penalty litigation with the Donald C. Schumacher Lifesaver Award. Death penalty litigation includes "trial excellence, mitigation investigation and presentation, as well as appellate and post-conviction litigation, and education." Past recipients include:
---
Contact Information
Ohio Association of Criminal Defense Lawyers
2720 Airport Drive Suite 100
Columbus, OH 43219
Phone: (614) 418-1824
Toll Free: (800) 443-2626
Fax: (740) 654-6097
---