Maine Association of Criminal Defense Lawyers (MACDL)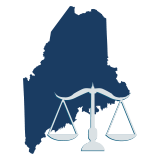 Logo of the Maine Association of Criminal Defense Lawyers
The Maine Association of Criminal Defense Lawyers (MACDL) was established in 1992 to give support and training to criminal defense attorneys practicing in the state of Maine. On the first Friday in June each year the organization host an annual meeting and legal seminar.

At the annual meeting, MACDL presents two awards, the President's Award and the Unsung Hero Award.
Members must be Maine criminal defense attorneys, actively engaged in the defense of criminal cases. The applicant must also support the purposes of MACDL by certifying his or her commitment to the fair administration of criminal justice and the defense of individuals accused of criminal acts. Judges and prosecutors are not eligible to join or remain in the Maine Association of Criminal Defense Lawyers.

---
Benefits of Membership in MACDL
The benefits of joining the Maine Association of Criminal Defense Lawyers include:
attending an annual legal seminar on the first Friday in June;
receiving a quarterly newsletter, "the Maine Defender," that highlights upcoming news and events about the organization, recent legislative changes and appellate cases that impact the practice of criminal defense;
CLE Seminars that provide CLE credits towards MCILS Annual Requirements;
reduced registration fees for Continuing Legal Education (CLE) seminars; and
a MACDL discussion forum where members can ask questions and share information with other members.
---
Executive Directory of MACDL
As of November 7, 2017, the Maine Association of Criminal Defense Lawyers began advertising for a part-time Executive Director. The part-time Executive Director would be responsible for:
maintaining the organization's website, listserv, and social media presence;
assisting in the recruitment of membership and responding to members' needs, collecting dues;
supporting the Board of Directors in fulfilling the mission of MACDL; and
coordinating continuing legal education programs.
Preference for the position is given to a licensed Main attorney who has practice criminal law.
---
Contact Information for MACDL
Maine Association of Criminal Defense Lawyers
P.O. Box 434
Freeport, ME 04032
Phone: (207) 865-1457
MaineMACDL@gmail.com
---
This article was last updated on Tuesday, November 7, 2017.