Louisiana Association of Criminal Defense Lawyers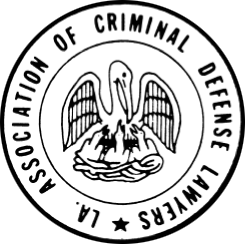 Logo of the Louisiana Association of Criminal Defense Lawyers
LACDL promotes a "fair, accurate, and humane criminal justice system through education, advocacy, and the development of effective and professional defense lawyers."

Louisiana criminal defense lawyers who join LACDL enjoy a sense of community, networking opportunities, publications focused on criminal justice issues and discounts on quality CLE seminars sponsored by LACDL throughout the year.
---
Contact Information for LACDL
Louisiana Association of Criminal Defense Lawyers LACDL
P.O. Box 82531
Baton Rouge, LA 70884
Phone: 225-767-7640
Fax: 225-767-7648
Website:
https://www.lacdl.org/
---
Benefits of LACDL Membership
The benefits of joining LACDL include:
continuing Legal Education (CLE) seminars on topics such as criminal procedure, DWI or drunk driving, federal sentencing and the death penalty;
assistance to attorneys when they are threatened with unjust legal action while providing zealous advocacy for their clients;
a listing on the membership directory for LACDL;
assess to the members only listserver to ask questions of or share information with other experienced criminal defense lawyers in Louisiana;
access to the members only legal forms, motion and brief bank; and
networking opportunities with some of the most experienced criminal defense attorneys throughout the state of Louisiana.
---
Membership Levels in LACDL

The LACDL has different membership levels including Sustaining Members and Lifetime Members. Higher levels of membership provide additional benefits. Other membership benefits include the CLE partner membership subscriber which acts as a CLE voucher.

A Lifetime Membership is $2,000, while the annual membership dues for a sustaining member is $250. The annual dues for a regular member are $150, an indigent defender is $75, a new attorney is $75, an associate member is $50, and a law student member is $10.
---
LACDL Position Statements
LACDL has published position statements on the following topics:
capital punishment;
discovery;
police investigations and scientific evidence;
exposing and correcting the conviction of innocent people;
sentencing;
juvenile justice; and
indigent defense and the right to counsel.
---
LACDL Committees
One of the best ways to get involved with the LACDL is by joining a committee. The LACDL has established the following committees:
Amicus;
Death Penalty;
District Defender;
Finance and Budget;
Gravel Scholarship and Awards;
Juvenile Justice;
Lawyer Assistance / Defense;
Legislative;
Membership;
Professionalism and Ethics;
Public Defender;
Public Information; and
Publications and Website.
---
Past Presidents of LACDL

Richard Goorley (Current President)
Robert Stephen Toale (President-Elect)
John DiGiulio
Paul C. Fleming, Jr.
Thomas E. Guilbeau
Rebecca L. Hudsmith
John F. LaVern
Thomas L. Lorenzi
Phyllis E. Mann
Anthony J. Marabella
Mike Mitchell
Julian R. Murray, Jr.
Bob Noel, II
David W. Price
Elton Richey
William E. Rittenberg
Rick Schroeder
J. Michael Small
Walt Sanchez
Henry C. Walker
Michael S. Walsh
Ronald F. Ware
Laurie A. White
---
This article was last updated on Friday, December 27, 2019.