Idaho Association of Criminal Defense Lawyers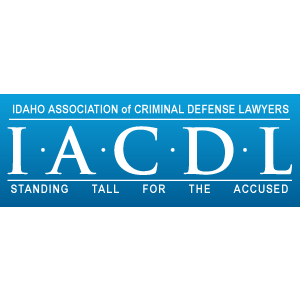 Logo of the Idaho Association of Criminal Defense Lawyers
---
Membership in IACDL
Benefits of becoming a member of the IACDL include:
Listing on the "Find a Lawyer" feature on the IDACDL website membership directory;
Access to a members-only listserv;
Access to a brief and motion bank on the members-only sections of the IDACDL website;
Discounts on Continuing Legal Education (CLE) courses and seminars on issues related to criminal defense;
Access to articles and publications from IDACDL including The Trumpet and Idaho's Best Criminal Cases; and
Right to assistance from the IDACDL "Strike Force."
Upcoming events include:
Idaho Falls Seminar on January 17, 2020, at Springhill Suites
Sun Valley Seminar on April 17-18, 2020
---
Committees on the IACDL
Members can join one of four committees on IACDL including:
Amicus Committee
DUI Committee
Newsletter Committee
Legislative Committee
CLE Committee
---
Past Presidents of IACDL
The past presidents of IACDL include:
---
Other Resources for Criminal Defense Attorneys in Idaho
Federal Defender Services of Idaho - Federal Defender Services of Idaho was founded in 1994 as a branch office of the Federal Defenders of Eastern Washington and Idaho under the authority of the Criminal Justice Act, 18 U.S.C. § 3006A. Members of the Federal Defender Services of Idaho share a passion for justice in representing indigent people accused of federal crimes.
Idaho State Appellate Public Defender - The Office of the Idaho State Appellate Public Defender (SAPD) was created in 1998 by the Idaho legislature to provide appellate representation to indigent defendants convicted of a felony in district court. The SAPD also provides appellate representation to petitioners in state felony post-conviction cases and habeas cases. The SAPD has 22 full-time employees in the Capital Litigation Unit and the Appellate Unit.
Idaho Prosecuting Attorneys Association - The Idaho Prosecuting Attorneys Association (IPAA) is a nonprofit corporation whose members are the elected county prosecutors, deputy prosecutors and other associate members. The IPAA provides education through seminars, publications and technical support to prosecutors throughout Idaho. The IPAA sponsors the Winter Conference in February and the Summer Conference each August as well as the Newly Elected Prosecutors Course, New Prosecutors Course, and Trial Advocacy trainings developed by the Idaho Traffic Safety Resource Prosecutor (TSRP).
---
This article was last updated on Tuesday, December 31, 2019.