California DUI Lawyers Association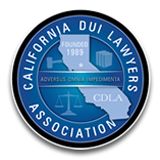 Logo of the California DUI Lawyers Association
The California DUI Lawyers Association (CDLA) was founded in 1989. Attorneys in CDLA promote the rights of the accused to encourage a fair criminal justice system.
CDLA is focused on issues impacting the DUI and drunk driving defense attorney in California. The organization also advocates for legislative changes to improve the laws of this state.
CDLA membership is limited to DUI defense lawyers in Calfornia who agree in writing with the Statement of Purpose, and who are not involved in either the prosecution or law enforcement nor any organization that is interested in the prosecution of men or women accused of drunk or impaired driving.
The California DUI Lawyers Association (CDLA) is an affiliate of the National Association of Criminal Defense Lawyers (NACDL) and the DUI Defense Lawyers Association (DUIDLA).
CDLA recognizes that DUI cases in California require special expertise, resources and specialized knowledge in both the science and law behind DUI enforcement. Membership in CDLA is one important indicator that validates an attorney's claim that he or she is focused on DUI defense.
The CDLA is also devoted to educating the public about the dangers of driving under the influence of alcohol or drugs. On the website, the public can find numerous articles related to the DUI law, punishments and penalties in California for a first or subsequent DUI arrest or conviction. The CDLA website also provides important information on DUI statistics throughout the state of California.

---
Types of CDLA Memberships
The fees for membership range from $130 a year to $200 a year. Types of memberships in the California DUI Lawyers Association include an associate membership, regular membership, and a specialist membership.

Attorneys designated as a "specialist member" must have at least five years experience, comply with certain continuing education requirements include 20 hours of credits approved by the California Bar M.C.L.E, and have experience defending at least 70 DUI cases with 20 jury trials (among other requirements).
---
Past Presidents of CDLA
The Past Presidents of CDLA include:
---
---
This article was last updated on Thursday, September 1, 2016.