California DUI Lawyers Association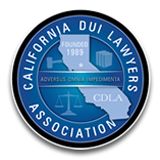 Logo of the California DUI Lawyers Association
CDLA membership is limited to DUI defense lawyers in Calfornia who agree in writing with the Statement of Purpose, and who are not involved in either the prosecution or law enforcement nor any organization that is interested in the prosecution of men or women accused of drunk or impaired driving.
The California DUI Lawyers Association (CDLA) is an affiliate of the National Association of Criminal Defense Lawyers (NACDL) and the DUI Defense Lawyers Association (DUIDLA).
CDLA recognizes that DUI cases in California require special expertise, resources and specialized knowledge in both the science and law behind DUI enforcement. Membership in CDLA is one important indicator that validates an attorney's claim that he or she is focused on DUI defense.
The CDLA is also devoted to educating the public about the dangers of driving under the influence of alcohol or drugs. On the website, the public can find numerous articles related to the DUI law, punishments and penalties in California for a first or subsequent DUI arrest or conviction. The CDLA website also provides important information on DUI statistics throughout the state of California.

---
Types of CDLA Memberships
The fees for membership range from $130 a year to $200 a year. Types of memberships in the California DUI Lawyers Association include an associate membership, regular membership, and a specialist membership.

Attorneys designated as a "specialist member" must have at least five years experience, comply with certain continuing education requirements include 20 hours of credits approved by the California Bar M.C.L.E, and have experience defending at least 70 DUI cases with 20 jury trials (among other requirements).
---
Past Presidents of CDLA
The Past Presidents of CDLA include:
---
Recent CLE Events on DUI Law in California
The California DUI Lawyers Association sponsors high quality seminars throughout the year. On recent seminar was entitled "Fast Eddie" Kuwatch All Day DUI Seminar is scheduled for Saturday, July 27, 2019, from 8 a.m. until 5:30 p.m.
The seminar will be held at the San Francisco Hyatt Fisherman's Wharf located at 555 North Point Street, San Francisco, CA 94133. The charge for members is $225.00 and for non-members is $275.00. Speakers included:
Dean Erwin Chemerinsky – An overview of SCOTUS DUI Cases
Dr. Stefan Rose – The science of defending marijuana DUIs
Okorie Okorocha – Turning the science into evidence in court
Peter Johnson and Donald Drewry – The digital data defense in blood cases
Lara Gressley – Challenging search warrants
Patrick Kolasinski – Immigration consequences in DUI cases
Heidi Eldridge – How to relate forensic science to a jury
---
---
This article was last updated on Friday, May 31, 2019.