American Board of Criminal Lawyers (ABCL)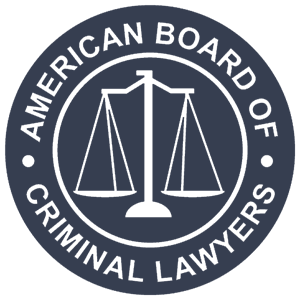 Logo of the American Board of Criminal Lawyers
The mission of ABCL is to protect the preservation and exercise of fundamental rights and freedoms for those accused of crimes while promoting excellence in the practice of criminal defense.
The following documentary provides a rare glimpse into the history of the ABCL and some of the accomplishments of ABCL fellows.
---
Requirements for Admission to ABCL

Admission into the American Board of Criminal Lawyers is by invitation only. Joining the group requires recommendations from current Fellows, a reputation within the legal community of exceptional ethics and litigation skills, and substantial major felony trial experience.

The Fellows in ABCL have extensive experience with complex criminal matters such as white collar crime, criminal appeals, and federal crimes as well as other areas.
Requirements for admission include having at least ten (10) years of criminal trial experience. Attorneys must have tried at least fifty (50) major felony cases to verdict and win at least thirty-five (35), at least five (5) of which being capital or life sentence cases.
---
Benefit of Membership in ABCL
The benefits of membership in the ABCL include fellowship with many of most recognized criminal defense and trial lawyers in the country. Fellows meet at events scheduled throughout the year at various locations throughout the world.

The ABCL keeps many of the details surrounding the events confidential. Events include meetings and social gatherings for both the Fellows and their significant others. Upcoming events of ABCL include:
MEETING - PALM SPRINGS, CA on Feb 7-9, 2020; and
MEETING - BARCELONA, SPAIN on May 29-31, 2020.
---
Publications of the ABCL
The ABCL publishes a monthly newsletter for members called "The Roundtable" which highlights signification events impacting the practice of criminal defense and highlights the accomplishments of the Fellows.
---
Past Presidents of ABCL
The past presidents of ABCL include:
1997 - Stephen Robert Lacheen
1996 - Edward D. Tolley
1995 - Charles L. Goldberg
1994 - Michael D. Kimerer
1993 - Hon. William T. Moore, Jr.
1992 - Henry W. Asbill
1991 - Walter L. Gerash
1990 - Ira D. London
1989 - Frank K. Martin
1988 - James E. Liguori
1987 - Milton M. Ferrell, Jr.
1986 - Peter H. Neuman
1985 - George G. Walker
1983 - J. Willilam Gallup
1982 - Harriet Ross
1981 - George T. Davis
1980 - Nathan Cohn
---
History of the American Board of Criminal Lawyers (ABCL)
The American Board of Criminal Lawyers (ABCL) was founded in June of 1978 by a criminal defense attorney in San Francisco, CA, named Nathan Cohn. Born on January 18, 1918, Nate Cohn died at the age of 91. After graduating from the San Francisco Law School, he became an attorney in 1947 and practiced law for more than 53 years.
During his career, he represented the rich and famous including Duke Ellington, Artie Samish, Bob Crosby, and Popo the Clown. In the process, he became a celebrity himself with the media following many of his cases as front page news. He once won 13 acquittals in a row. During his career, he tried more than 200 cases, both civil and criminal.
Nate Cohn was honored by the San Francisco Trial Lawyers Association SFTLA with the Lifetime Achievement Award. The San Francisco chapter of the American Board of Trial Advocates awarded him the Don Bailey Award. He was also elected to the San Francisco Law School Hall of Fame. Nate Cohn served as the ABCL's first president in 1980. In 2006 he wrote his memoir entitled "Murder He Liked."

This article was last updated on Tuesday, December 31, 2019.