The Inner Circle of Advocates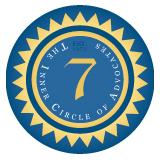 Logo of the Inner Circle of Advocates
The mission of the non-profit organization is to promote excellence in civil trial practice. The "7" in the logo of the Inner Circle of Advocates symbolizes the seven-figure verdict originally required for membership in the organization. The group only admitted male members until 1990, when Judith Livingston was admitted as the first female member.
Today, to be considered for membership, the attorney is expected to have 50 jury trials and at least three verdicts of one million dollars or at least one verdict in excess of ten million dollars.
---
Video from the Founder of the Inner Circle of Advocates
Video published on September 26, 2012. In the video, one of the founders of the organization, Attorney Richard Grand of Tucson, Arizona, spoke about his practice and founding the Inner Circle of Advocates in 1972. Although Richard Grand died on April 7, 2013, his contributions to the organization are not forgotten.
---
This article was last updated on Thursday, September 5, 2019.