South Carolina Association of Criminal Defense Lawyers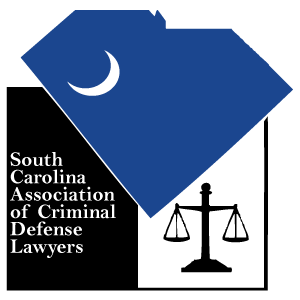 Logo of the South Carolina Association of Criminal Defense Lawyers
The South Carolina Association of Criminal Defense Lawyers was founded in 1992. Members of the organization practice criminal defense in both federal and state court and include private attorneys and public defenders. The organization advocates for the profession and sponsors Continuing Legal Education (CLE) seminars throughout the year.
Membership in SCACDL is open to South Carolina criminal defense attorneys who are actively engaged in representing individuals charged with criminal offenses in either state or federal court. Associate membership is open to individuals that support criminal defense attorneys such as paralegals, investigators and expert witnesses. Prosecutors and judges are not eligible to join or remain in SCACDL.
To join, the applicant must certify that he or she supports the purpose the purposes of the South Carolina Association of Criminal Defense Lawyers, is committed to the fair administration of criminal justice and the defense of individuals accused of crime. Sustaining members and benefactor members receive special recognition.
---
Benefits of Membership in SCACDL
The benefits of joining the South Carolina Association of Criminal Defense Lawyers include:
Discounts on Continuing Legal Education (CLE) seminars and classes;
Access to a motion and brief bank; and
Access to a Listserv that allows members to ask questions and share information with other members;
---
Contact Information for SCACDL
South Carolina Association of Criminal Defense Lawyers
P.O. Box 8353
Columbia, SC 29202
Phone: (803) 929.0110
Fax: (803) 929.0168 Fax