Alaska Association of Criminal Defense Lawyers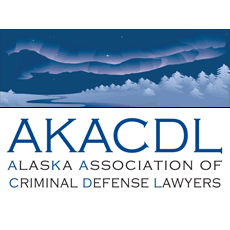 Logo of the Alaska Association of Criminal Defense Lawyers
The Alaska Association of Criminal Defense Lawyers (AKACDL) in Anchorage, AK, is the preeminent association for those working in the criminal defense profession in Alaska. This non-profit professional organization was established in 2009.

Today, AKACDL has grown to more than 160 members including many of the top criminal defense attorneys in the state of Alaska.

Members include both attorneys in private practice and those that work for the public defender's office. The members practice in both state and federal court defending individuals accused of criminal offenses throughout the state.
AKACDL is an official Affiliate Member of the National Association of Criminal Defense Lawyers.
---
Contact Information for the AKACDL:
Alaska Association of Criminal Defense Lawyers
c/o 601 West 5th Avenue, Suite 800
Anchorage, AK 99501
907-242-2869
---
Benefits of Membership in AKACDL
The benefits of joining AKACDL include:
quality CLE seminars;
invitation to the annual "All-Stars Conference, half-day educational seminars, and luncheon meetings;
access to the members-only section of the website containing over 800 pleadings, briefs, motions and memoranda;
access to the AKACDL listserve; and
a voice before the legislature in Juneau on criminal justice issues.
The AKACDL membership classifications include: regular member, association member, new lawyer member, public defender member, and public defender association. The annual dues range from $250 for regular members to $125 for public defender members.

Former prosecutors with any local, state, or federal prosecuting agency are ineligible for membership for one year after such employment. Otherwise, former prosecutors can become members only upon a vote of approval by a majority of the AKACDL board.
At Lawyer Legion, we understand the important role that organizations like AKACDL play in helping criminal defense attorneys in Alaska.